£3.4 million Cartrefi showpiece scheme will tackle affordable tenancy gap in Conwy
Cartrefi Conwy Housing Association has begun work on a new project which will ease the housing shortage for low income families in the county.
The £3.4 million scheme will see 28 new units, including houses and apartments, created around a landscaped cul-de-sac in Penmaenmawr Road, Llanfairfechan.
Five of the properties wil be available at an intermediate rent level, which means residents will pay 20% less than the current market rate in Conwy.
Construction of the showpiece units – in partnership with Beech Developments and Brenig Construction - is also bringing benefit to the local economy, creating more than 130 construction jobs including three apprentices.
The development is aimed at what Cartrefi Conwy has identified as "in-betweeners" – people who earn too much to qualify for traditional social housing but not enough to be able to buy or rent in the private sector.
Work on the development, which includes seven houses with two and three bedrooms, four cottage apartments featuring their own entrances and gardens plus a block of 17 one and two-bedroom apartments, started in December and is due to be completed by May next year.
Construction is being carried out by Conwy-based Beech Developments working alongside Brenig Construction of Colwyn Bay who are managing the site.
According to David Kelsall, Cartrefi Conwy's Development and New Business Manager, the project marks a new approach to housing provision by the association.
"Cartrefi Conwy is already well known for providing quality social housing but Penmaenmawr Road shows that's not all we're about.
"All our present developments, including this one, feature intermediate tenure properties to help those trapped between social housing and private rentals.  This includes young professionals who may earn too much to qualify for social housing but not enough to buy or rent in the private sector and key workers from the local area employed in essential jobs as health, caring, emergency services and education.
"This project also perfectly demonstrates how we believe it is essential to work with local contractors and suppliers, not only to handle the construction itself but also to stimulate economic growth in the local area.
Matthew Gilmartin, Managing Director of Beech Developments, said: "We are very pleased to be working with Cartefi Conwy in delivering these much-needed affordable homes.
"There's a definite shortage of affordable homes in the county of Conwy and our partnership is helping to address that gap.
"We started work at Penmaenmawr Road on December 15 last year and the development is due for completion in May of 2017.
"What we are doing as a local company, with our partners in this development, is providing homes for our neighbours, providing jobs and skills training for local people. There is a severe housing shortage across the marketplace in Conwy but the need is acute in social housing and we are proud to be playing our part to address that."
Howard Vaughan, Director of site managers Brenig Construction, said the project was a great opportunity for the firm.
"This is something of a milestone for us as it's the first residential scheme of this size we have worked on," he said. "It gives us the opportunity to grow our own business and to employ local people.
"As a result of this scheme we have provided continuing employment for quite a large number of people, including three apprentices."
To find out more about Beech Developments visit www.beech-developments.co.uk.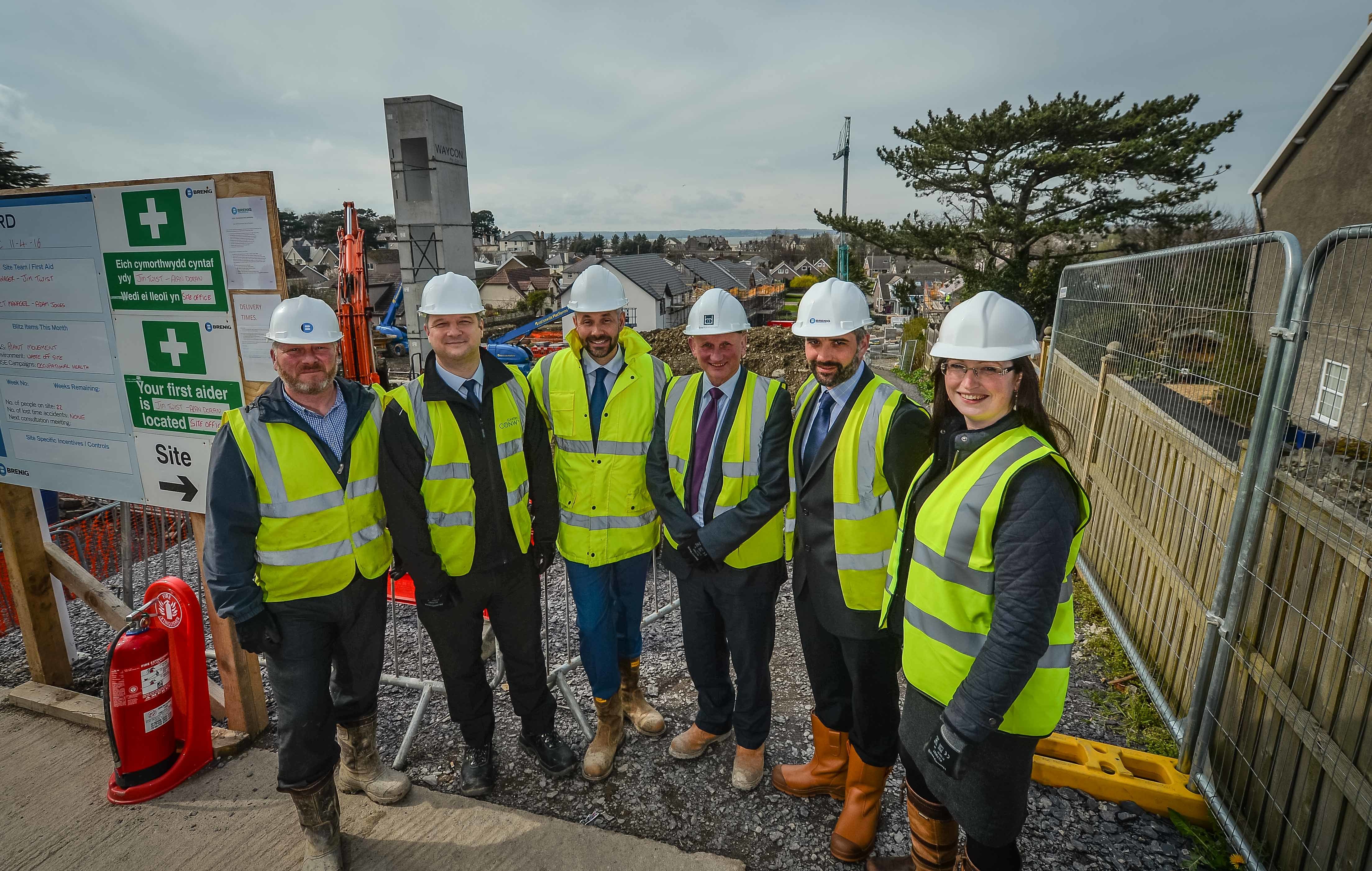 Mike Twist (Site Manager), David Kelsall (Cartrefi Conwy), Matthew Gilmartin (Beech Developments), Mike Roberts (Beech Developments), Howard Vaughan (Brenig Construction) and Alex Weaver (Cartrefi Conwy).
Pagination