Innovative Tech Firm Glide Into New Office
Famed for their adrenaline-fueled paragliding virtual reality attraction, Frontgrid Ltd have recently moved from Llanfairfechan to Llandudno Junction in the wake of their global expansion.
Since launching in Summer 2018, founders Matt Wells and David Wood have set their sights on further growth, and will now build their team at Anson House, Narrow Lane.
The purpose-built modern office space has been coined as an 'incubator hub' for small but fast paced firms like Frontgrid Ltd, who already have customers in the UAE, Denmark, India, Malaysia and Thailand, with more to follow.
"With strong performance from existing ParadropVR locations and new sites launching as far afield as India and Saudi Arabia, we are firmly on-track to cement our position as a global leader in the design of immersive, adventure-based attractions for the entertainment and leisure industry. The team really has room to grow here at Anson House, which is great."
Frontgrid Ltd Co-Founder and CEO Matt Wells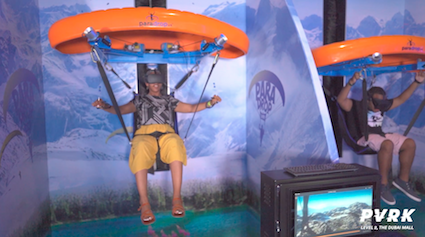 Their world-first ParadropVR now features at major attractions such as Bear Grylls Adventure in Birmingham and iFLY Basingstoke, taking players over mountains and epic scenery similar to that which surrounds Anson House.
Matt added: "The location really works for us with it being so close to the A55 and with great train links to London too. It's also great to have a flexible contract so if and when we need more space, it's easy to take up those conversations."
As part of their expansion plans Frontgrid are currently on the look-out for those who may be interested in marketing roles, as well as mobile app technology experts.
"We're lucky that the office is very close to some fantastic colleges and Bangor University. We hope that the tech industry will flourish with us and many North Wales businesses who are making huge leaps in the sector," she added.
Staff can now benefit from dedicated bike stores, communal modern kitchen space, ample parking and easy access from the A55 and A470, due to Anson Houses' location, set back off Narrow Lane, Llandudno Junction.
"It's great to see innovative businesses like Frontgrid joining us here with aspirations to grow their business. With our large third phase due for completion in Autumn 2019, we look forward to inspiring more SME businesses to stretch their horizons here too."
Matthew Gilmartin, Managing Director of Beech Developments
Anson House is also home to Site&Seen, a local web design, link building and social media agency, Canaccord Genuity Wealth Management (CGWM), J T Thomas & Co Chartered Accountants and Beech Developments.
*Image is courtesy of Reward.
Pagination