Under Russells Roof: Interiors Inspired
Purchasing a Beech Developments home is just the beginning of creating your dream home. One of our unique selling points is that we offer our customers the opportunity to put their own personal stamp on their home. Without complicated and expensive renovation costs, you could move into your property and create your home straight away.
The process of creating your own individual style starts right in our sales office. We offer all of our buyers choice when it comes to certain fixtures and fittings such as tiles and kitchens. This also means you're part of the process right from the start.
With this in mind, we spoke to Vickie of popular Instagram account @underrussellsroof. She's amassed an impressive 30k+ followers by showcasing her natural creative flair for interiors within her Beech home.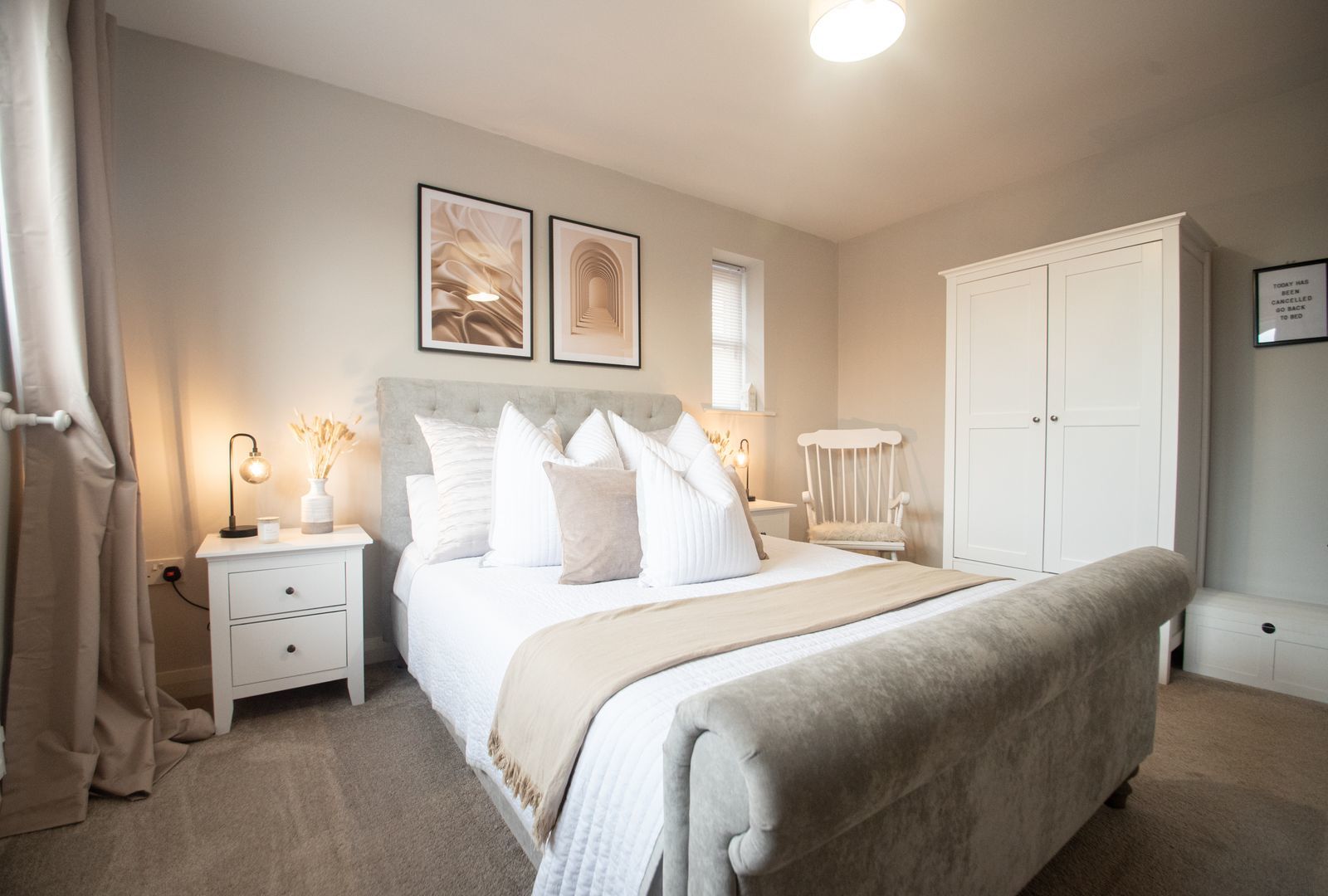 Tell me about yourself and Instagram home account
I'm Vicky, and I'm 26 now, we moved in [to the property] in 2017, when I was 23, and we didn't really do much to the house. We just had a few second-hand things and just kept the interior as it was.
I think it was the end of 2019 that I was always on Instagram looking at other people's houses and I noticed somebody with a similar house to us and I just thought - wow, I really want our house to be like this.
I was never really into spending money on interiors, we would usually just save for holidays and stuff. But when the pandemic started, we suddenly had the time and money to really focus on the house. We'd not spent much [on the house] before as we were always saving for a holiday, but I've really got into finding my own style since then, just from being inspired by other home accounts.
What drew you to the area?
I used to live in Old Colwyn, I lived there for 20 years. But then my parents moved to Llanrhos, so we were closer to them and I just thought it was really nice here. Nathan had lived in Colwyn Heights, and we were interested in that area too, but we really wanted a new build, because it's like having a blank canvas.
We were looking at developments in the area, and all the properties had actually gone on this development, but we were able to get on a waiting list. Luckily, this property did become available, and we felt like it was just meant to be.
How did you find the buying process?
When this plot became available, it was when the development had just started. We felt quite last minute, because we weren't expecting a Newborough to become available – but considering we were rushing to get the mortgage in principle Beech were amazing.
It was things like being able to pick the kitchen finish we wanted and the option to add more tiles through the hallway that made the whole experience really great.
What do you think sets Beech homes apart from other developments?
We only really looked online at other developments. It was the Newborough  property that caught our attention. It's the layout and the fact that it's double fronted that drew us to it. Also, the streets at Beech developments don't feel cramped, which I found they did at others.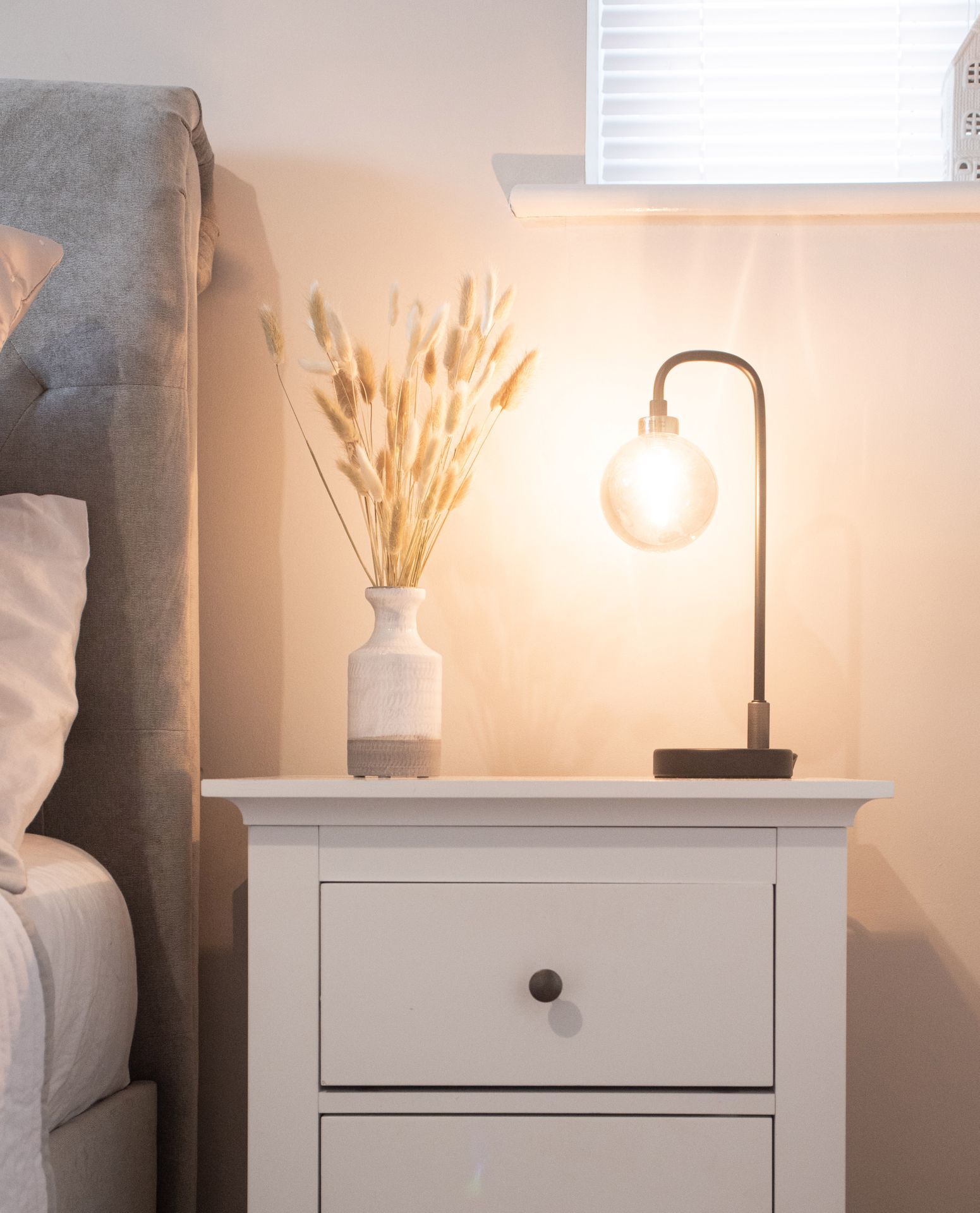 Did you use HTbW when you bought the house, and how did you find it?
We did and we found it useful. I'd recommend it to anybody who wants to get on the property ladder. It gave us the opportunity that we needed as first time buyers.
What have you changed since you moved into the property?
The panelling in the kitchen and in here [the lounge] are the only things we've really changed. We've also made some adaptions to the utility room, but apart from that we've only really had to paint.
Is this house your forever home?
I can't imagine us moving from here, it's our first home and I don't like change. I think things like an extension would be amazing in the future if we can.
Would you consider a Beech home again?
Yes, definitely! I love the new developments I've seen, like Bryn Heulog - Beech just get better and better. I really like the rendering of those properties.
What's the most practical thing about your home?
I would say in the Winter that our house retains heat really well. That, and there is a filter that extracts allergens, I have allergies, so that's really good. Obviously, it's really energy efficient as well with the solar panels. Some days we're not using anything and just running off the solar, and you even get money back on it from the fit scheme.
There's a speaker built into the ceiling in the kitchen, that was a surprise the day we moved in, and I just love playing music in the kitchen.
How has your taste changed since you started your interior journey?
When I started the home account, I just loved grey. Like, when we got the sofa I just thought, it has to be grey, grey's in style. I even said to Nathan, we have to change the carpets because when we were moving in, in 2017, I liked beige colours [so we chose a beige carpet] and last year I just really wanted grey carpets.
Now, I've gone off too much grey, I don't mind a little bit of grey, but not as much. My taste has completely changed since them.
How long have you been renovating your home and how long after did you start @underrussellsroof?
Properly since January 2020, but probably a little bit before then, like the end of 2019 – it was just before I started [my Instagram account] that we did the panelling in the kitchen and when I put a picture of it on my personal account, I got a lot of messages saying, 'that's so nice!', and that's when I had the idea that I could make a separate account. I didn't expect to get 1,000 followers, never mind 30,000. I just didn't expect it to grow like that, it's really good.
What inspired your interior style?
It was probably Instagram mainly, and Pinterest – I had loads of boards. Things like the panelling were definitely Instagram, I saw it there first.
What's your favourite piece of furniture or décor?
Probably the panelling in the kitchen, I think that's because I've changed the colour of it recently!
Which room is your favourite?
It changes all the time, I'd probably say the kitchen/diner. But – we have just got new prints for the bedroom and I quite like that, but I do also like the panelling in here [the lounge]…but I do think it has to be the kitchen!
What's your next interior plan?
Our bathroom! Whenever I take pictures, I'm always aware there's nothing around the toilet or the sink. I really want a big round mirror, with lights either side. So I'd probably say that's next.
Do you have any advice to future Beech home buyers?
Just to make sure when you're picking out your features, to take somebody who knows you really well. I love my white tiles, but I wish I'd listened to my mum when she said they would drive me mad. I knew I'd have to keep them perfect at all times, but white does show up everything.
What's your favourite thing about your home?
I love being on the end plot, it's in a great spot!  I also love the garden; I just feel like we've got a fresh slate moving into this house, it's really nice.
If you could go back and tell yourself one thing at the beginning, what would it be and why?
I kind of wish we'd have started earlier. I would also probably tell myself to stop buying shabby chic stuff to be honest!
Looking for your perfect home? Email: sales@beech-developments.co.uk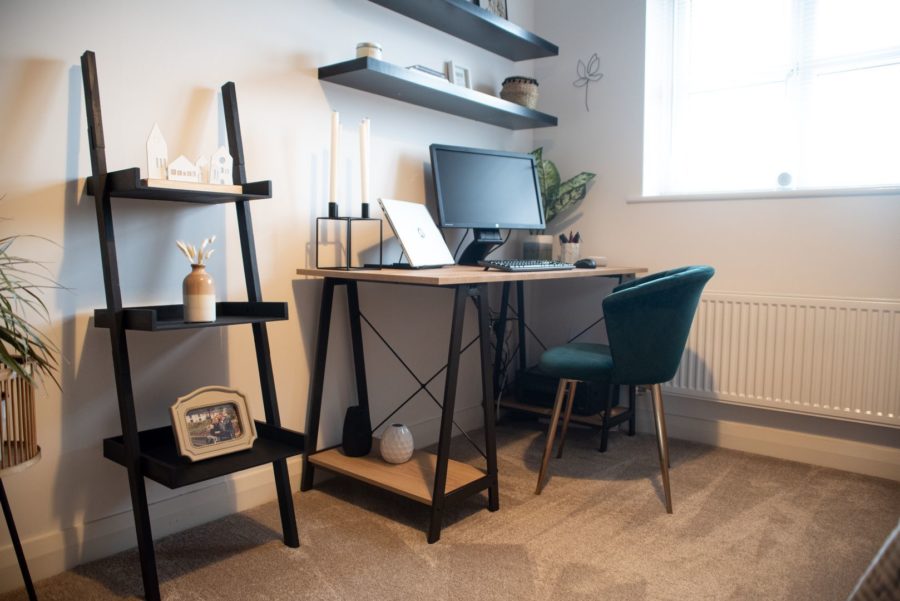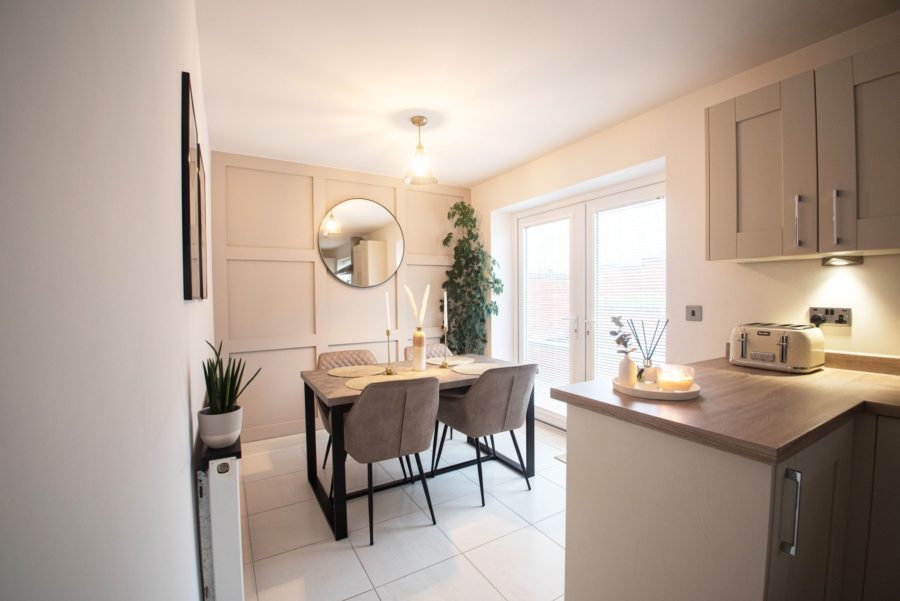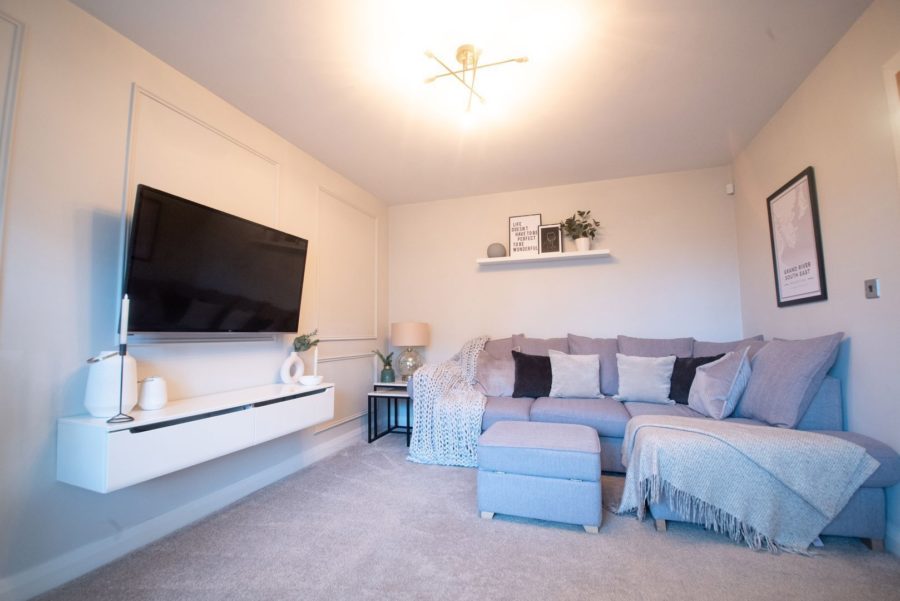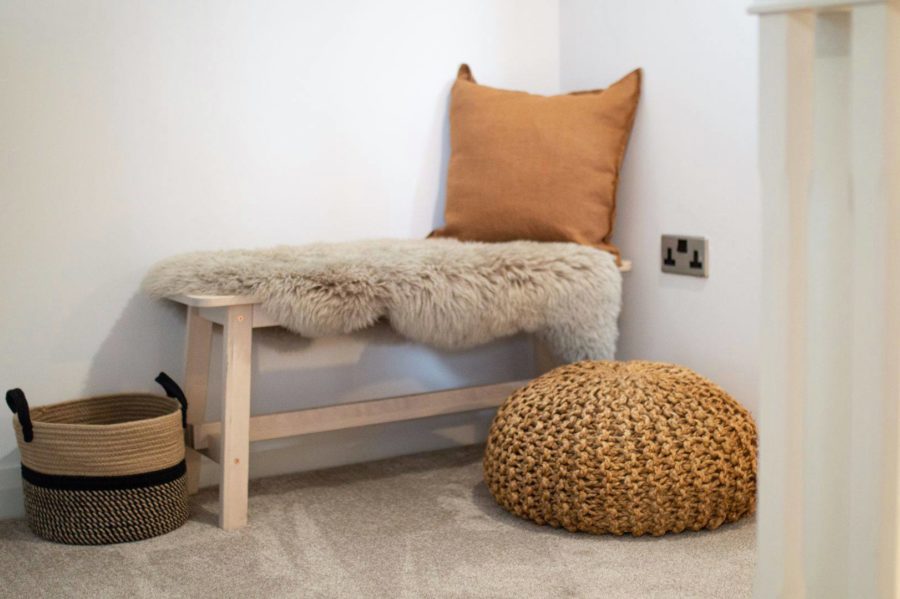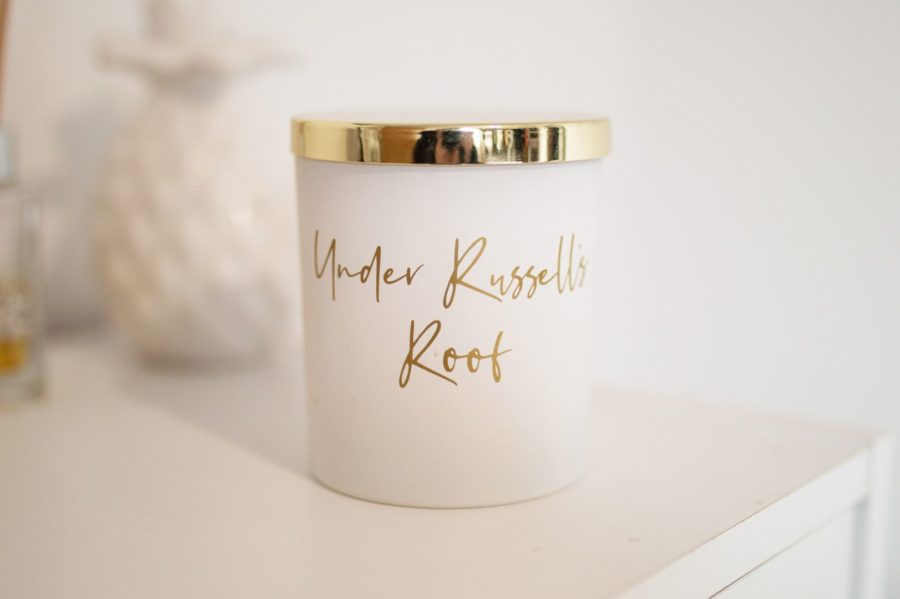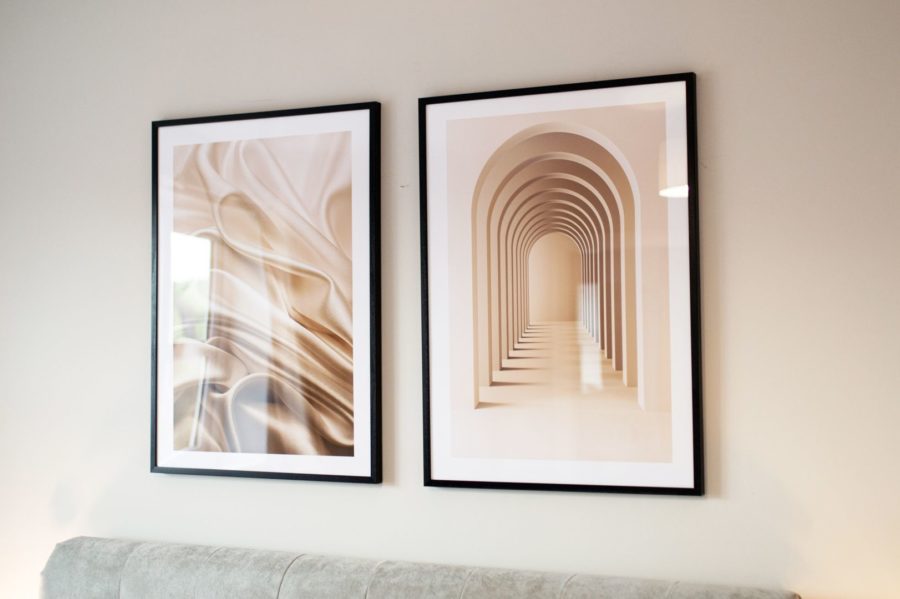 Pagination